Christmas Box
Social Media Strategy I Social Media Scheduling I Organic Social I Facebook Ads I Instagram Ads
A LIFE Community initiative, Christmas Box is a social campaign run every year to feed families in need at Christmas time. Christmas Box started as a grassroots local initiative, delivering Christmas gift-wrapped food boxes to neighbouring families in need. Today, Christmas Box is an annual campaign delivering thousands of Christmas boxes to families across New Zealand, Australia and the Pacific Islands.
Find out more about Christmas Box here.
The Challenge
We were tasked with the challenge of helping Christmas Box to generate enough donations to be able to distribute 21,000 CB boxes to New Zealand, Australia and the Cook Islands. This would require the highest number of donations since the beginning of Christmas Box!
The Solution
We immediately identified Facebook and Instagram as key channels to increase awareness about Christmas Box and drive donations. After a creative brainstorming session, we mapped out enough content for the campaign and briefed the designers. We then used clever targeting options to ensure that those most likely to donate saw our content first.
The Results
As a result of our efforts together with our channel partners, we were able to smash the previous years' donation effort!
Using both Facebook and Instagram we were able to generate significant awareness and engagement throughout the campaign. In just 6 weeks we were able to increase our following by 471 fans and reach 107,512 people with our posts.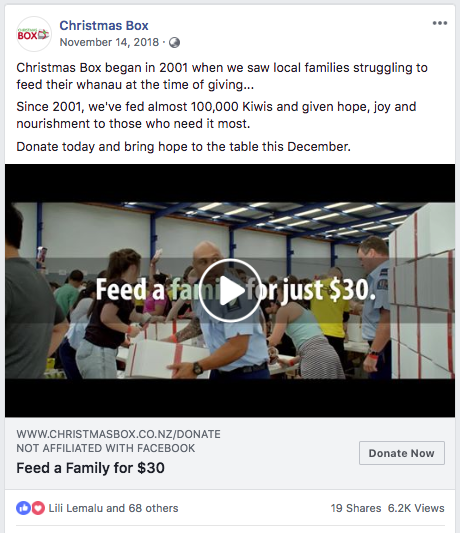 This video ad had a CTR of 2.02% producing 389 donations and reaching 15,511 unique people. It was also shared 19 times and generated over 6,000 views.
Ads such as this carousel post was viewed by 20,980 unique users and had 46,012 impressions.