RefixMyMortgage
Graphic Design I Brand Development I Web Development I Marketing Strategy I Social Media Marketing
About RefixMyMortgage
RefixMyMortgage specialises in getting mortgage owners the lowest interest rates on the market, regardless of who they bank with. They are able to do this utilising their vast experience and contacts in the home loan industry.
Talk to the friendly team at RefixMyMortgage if you need to refix or refinance your mortgage.
The Challenge
We needed to build RefixMyMortgage from the ground up. With no brand, website or presence in the market, we needed to develop a distinctive and functional brand that resonated with our buyer personas. The client wanted to prove his business model with a low-touch method of generating new leads. Our goals were to generate an email list of 100+ contacts and convert 5-10 leads into customers per month.
The Solution
Our solution included:
- Brand Development
- New Website Build in Squarespace
- Integration with HubSpot CRM & Marketing Software
- HubSpot Onboarding
- Marketing Strategy Development
- Campaign Execution
- Website Optimisation
- Ongoing Marketing Activities including:
Monthly articles, social media posts, SEO & reporting.
Find out more below.
During our strategy workshop we identified that RefixMyMortgage was about more than just interest rates. It was a fun, vibrant brand appealing to middle-income earners with aspirations for a creating a better lifestyle for themselves. We took these brand attributes and used them across all of our messaging, creative assets and marketing executions.
We used the tagline, "Refix Your Mortgage And Live Life On Your Terms," and combined this aspirational messaging with light-hearted metaphors playing on the idea of 'T-Bone Tony' and his love of steak!
Yup, humour was a big part of the brand. We needed to keep the dialogue interesting and compelling… We'll let you be the judge of whether we succeeded or not.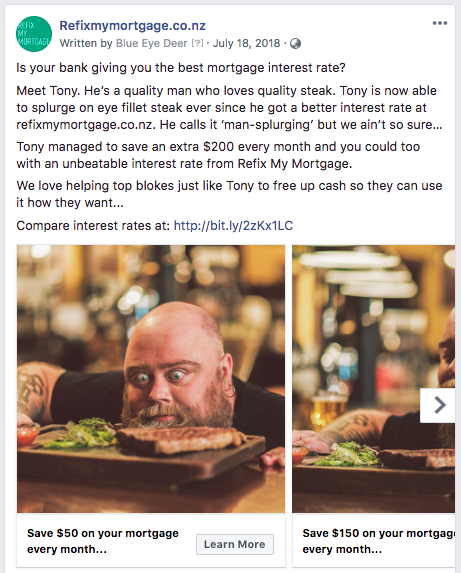 Facebook Ads were major component of our campaign strategy. Facebook provides a cost-effective advertising platform with comprehensive targeting options. With an overall media spend of less than $2,000 we were able to reach 92,304 people and generate 39 new leads.
That's a cost of less than $50 per lead and an average of $2.79 per action generated.
Our content strategy had two parts to it: 1) Produce original content and share across digital channels and 2) Share external articles to provide our audiences with helpful resources that aligned with our wider brand proposition.
The goal here was to increase traffic to the website via both organic social media and organic search. In just 5 months, we were able to increase site traffic from zero to 1,690 site visitors (15% was from free channels).